Community Reinvestment
Creativity fosters adaptability, which is required to manage our lives. Albert Einstein said, "Imagination is more important than knowledge." Knowledge requires repetitious learning of things already known. Imagination allows us to create something from unrelated things. We practice this exercise in almost every aspect of our lives. Immersion in the arts teaches us ways of thinking that few other activities can match. Art is essential to keep the flame of our creativity alive.
Old Town Artisan Studios welcomes all who wish to find increased self-expression through art. Thanks to financial and in-kind contributions, we provide a positive art experiences and help foster creativity and expression.
Mobile Outreach
Bringing affordable art classes to all! With our Mobile Art Van, Old Town Artisan Studios can now take its vision on the road, offering instructor-led art classes in clay, glass or bisque to all the communities of the Coachella Valley: Desert Hot Springs, Palm Springs, Cathedral City, Rancho Mirage, Palm Desert, La Quinta, Indio, Coachella, Thermal & Mecca. From individuals with special needs to our underserved children, youth and seniors, we bring the opportunity for art to all. Our students come alive, finding immense joy in new outlets for self-expression and personal creativity.
Scholarships and Partnerships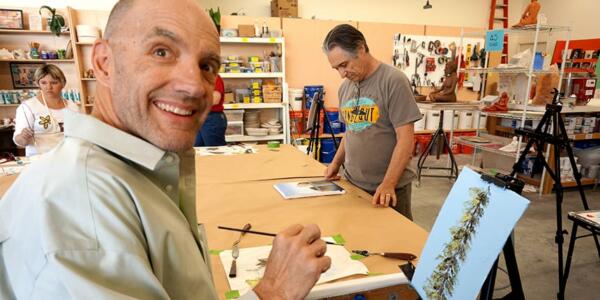 Old Town Artisan Studios is committed to providing positive art experiences for all people despite age, disability or financial condition.
A 501(c)(3) non-profit organization, Old Town Artisan Studios partners with and is supported by dedicated individuals, businesses, schools and other non-profit organizations to provide free or reduced-fee classes in and out of the Studio. If you represent a group interested in partnering with us, or if you know of one that would benefit from involvement in one of our programs, please call or email us today! Scholarship classes offered on an annual basis.
Some of the organizations we have served throughout the Coachella Valley:
The Academy of the Palm Desert Community Presbyterian Church
Angel View
Atria Hacienda Senior Living
Boys & Girls Clubs of Coachella Valley
Braille Institute
Cathedral City High School
City of La Quinta Events
LQ High School Special Needs
Coachella Valley Autism Society of America
Coachella Valley Community Trust (Indio Teen Task Force)
Coachella Senior Center
Coachella Valley Autism Society of America
Covenant Care
Desert Alliance for Community Empowerment
Desert Arc
Desert Recreation Center
Family YMCA of the Desert
Father's Heart Ranch
Girl Scouts of America
City of Indio Teen Center
Joslyn Senior Center
Jewish Family Services of the Desert
La Quinta Public Library
La Quinta High School
La Quinta Resort
Living Desert Zoo & Gardens
The Madison Club
Mama's House
Martin Van Buren Elementary School
Mourning Star
North Shore Beach & Yacht Club (Community Center)
The Ophelia Project (Healthy Family Foundation)
Pathfinder Ranch
Raices Cultura (with the the Building Healthy Communities Grant)
Covenant Care Outreach
Rancho Mirage Public Library
SafeHouse of the Desert
Salvation Army
Segovia Oakmont Signature Living
Shelter from the Storm
Toscana Country Club
United Cerebral Palsy
The Vintage Country Club