Join us in Leland Gallery for marvelous displays of local art
Central to the property is the Leland Gallery, where we host regular art openings featuring the work of world renowned artists, regional favorites and even students from our classes.  The Leland Gallery is a beautiful space lined with windows that allow sunlight to pour in and illuminate the art within.  With free admission, the gallery is open to the public during our normal business hours, Monday through Saturday from 10:00 am to 5:00 pm.
All pieces on display in the Leland Gallery are for sale. A portion of the proceeds from your gallery purchase will fund our mission and directly support our Outreach Program, where we partner with other organizations to provide art experiences to our friends who need it most.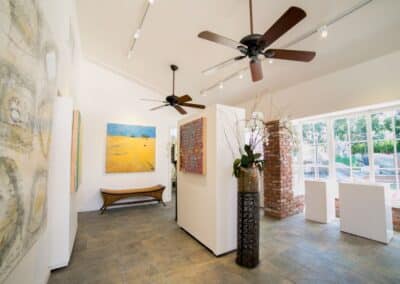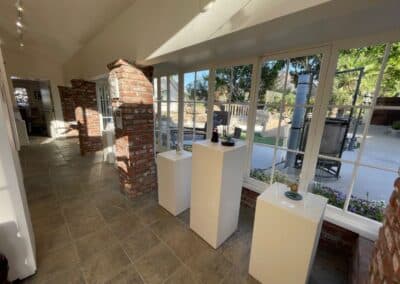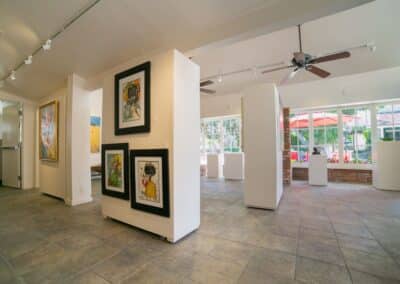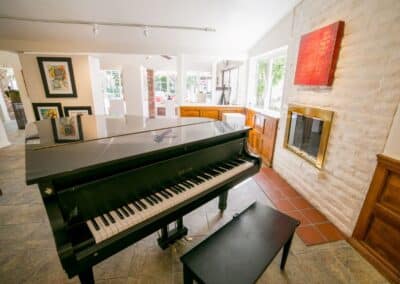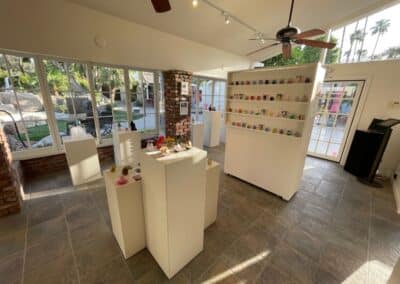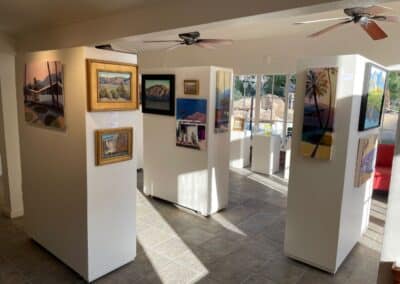 Join us for Artist Receptions!
With each new show set in the Leland Gallery, OTAS hosts an opening artist reception to celebrate the work and the maker.  Stop by for this wonderful opportunity to experience quality art and speak to the artists themselves!  Artist receptions are typically held on every other Thursday evening from 5:00 to 7:00 pm, and are free and open to the public.  Please see the schedule below to learn about upcoming shows.
2022-2023 Leland Gallery Schedule
Artist Receptions are from 5:00 – 7:00 pm.  Free and open to the public!
Lelland Gallery is open to the public Monday – Saturday from 10:00 am – 5:00pm.
ART OBSESSIONS – 01/05 – 01/16
Discover unique paintings, jewelry, fiber art, basketry and carved gourds in this show featuring the works of Nettie Roberts, Carol Listenberger, and Ann Leiboh.
OPENING RECEPTION: January 5th, 2023 | 5:00-7:00pm
OTAS ARTISAN SHOW – 01/19 – 02/11
Old Town Artisan Studios presents the works of instructors, ranging from fused glass, ceramics, pottery, acrylic pour, textile art, and more!
OPENING RECEPTION: January 19th, 2023 | 5:00-7:00pm
OTAS STUDENT SHOW – 02/17 – 03/04
Our annual student show features selected intermediate and advanced students at OTAS.
OPENING RECEPTION: February 17th, 2023 | 5:00-7:00pm
EGGSTRAVAGANZA – 03/16 – 03/31
Hundreds of ceramic eggs are transformed into works of art and then auctioned off to raise funds for the Outreach Program of Old Town Artisan Studios. The EGGStra-spectacular collection features artists from our local community, as well as artists from across the nation.
OPENING RECEPTION: March 16th, 2023 | 5:00-7:00pm
CALIFORNIA PERSPECTIVES – 04/06 – 04/17
Immerse yourself in colorful oil paintings that capture California landscapes and urbanscapes by Kathleen Strukoff and Nita Harper.
OPENING RECEPTION: April 6th, 2023 | 5:00-7:00pm
A TOUCH OF GLASS – 04/20 – 04/29
Our first ever fused glass show will be coming to the Leland Gallery featuring the works of various artists.
OPENING RECEPTION: April 20th, 2023 | 5:00-7:00pm
To be considered for a group or solo show, please fill out the application here.
If you have any questions, please email [email protected]