a fun, creative experience!
Stop by our campus today and enjoy the Paint-Your-Own-Pottery studio! We have a dedicated studio with tons of options for you to create with and have fun.
Walk-ins welcome and there are No Studio Fees!
Paint Your Own Pottery (PYOP) is a fun, creative experience for everyone–no matter age, ability, or artistic talent! We supply all the materials you will need and offer a wide range of ceramic items for you to choose from. How does it work? Choose your item, paint your unique design with our underglazes, and pick it up once we fire it for you in our kilns!
The PYOP studio is open Monday through Saturday, from 10:00 am to 5:00 pm, with the last seating at 3:00 pm. We do ask that you please call ahead if making reservations for parties of 4 or more people. All ages are welcome, but adult supervision is required for ages 12 and under. The cost of the session is simply the cost of the pieces you choose to paint, plus tax. Pottery pieces range from $5 to $80, most items being in the $15-$20 range. Once painted, your one-of-a-kind pottery piece will be ready in 7 to 10 business days!
Pottery painting is a great way to spend quality time with family and friends. It's also ideal for birthday parties, corporate events, baby or bridal showers.
Call our office to learn more!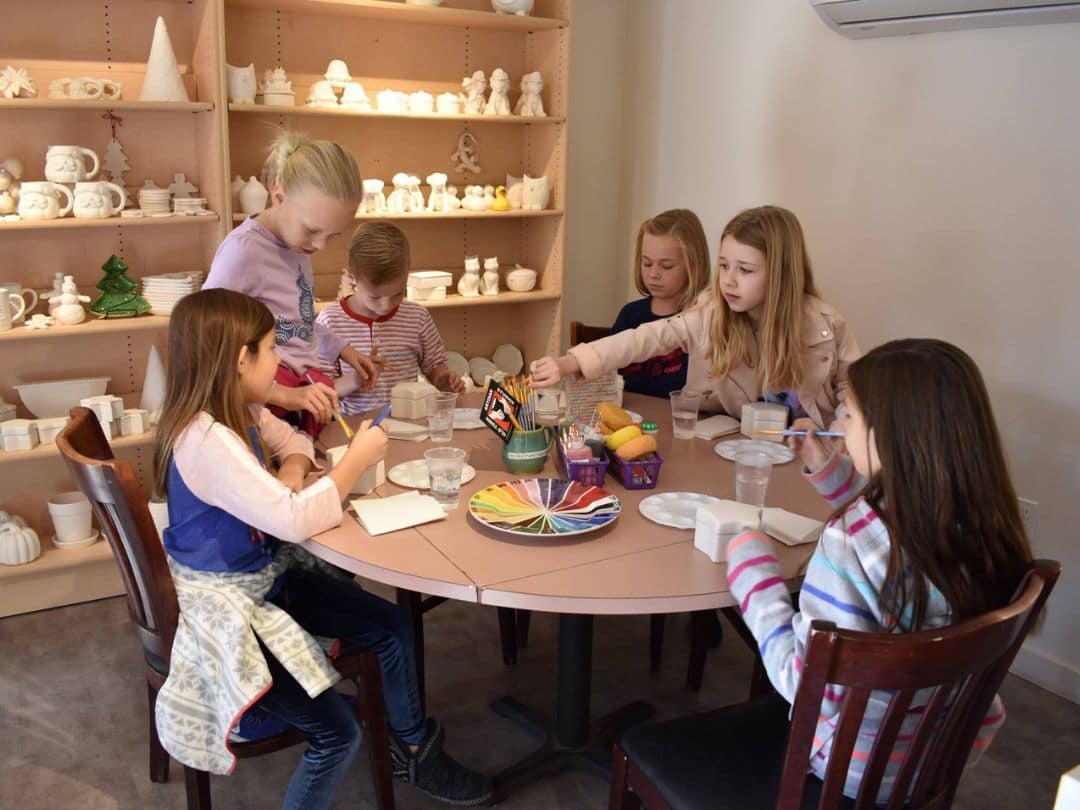 What a great way to celebrate! Paint Your Own Pottery parties are wonderful for any age and any occasion.
Please review the details below and call us at (760) 777-1444 to schedule your party.
Paint-Your-Own-Pottery Art Party
Available time slots on Monday through Saturday, within hours of 10:00 am and 4:00 pm.
Minimum of 6 people, Maximum of 10 (parents not included in this count)
Cost: $35 per person (for those taking part in art activity, not for supervising adults)
Price includes PYOP time and materials, as well as one hour of celebration in our party room.
Please arrive 30 minutes prior to start time for set up/decorating.
Parents must sign a liability waiver prior to start of party.
Paint-Your-Own-Pottery
We recommend starting with PYOP, then moving on to the celebration.
Parents can pre-select items to paint or the kids can select their own.
Each item must be listed at $15 or less.
If you would like to paint an item listed at a higher price, you will be responsible for the difference in cost.
Instructor will explain how to work with the materials and be available to answer any questions.
Painted pieces will remain at the studio to be fired in the kiln.
Parents will be notified by phone when the artwork is ready for pick-up, typically 7 to 10 business days later.
Outdoor Patio or Indoor Party Room for Celebration
Tables and chairs may be used and decorated for your celebration
No helium ballons allowed on the property.
Food and non-alcoholic beverages may be brought to party
Additional time on patio is $50 for up to 2 hours, including cleanup
Party must be concluded by 4:00 pm
Inquire about Private Parties today!
Refer to our Studio Policies for further information. All students will be required to fill out a Liability Waiver prior to the class starting.
Our art classes serve all the communities of Coachella Valley: Desert Hot Springs, Palm Springs, Cathedral City, Rancho Mirage, Palm Desert, La Quinta, Indio, Coachella, Thermal & Mecca.