Our mission is to provide positive art experiences for all people despite age, disability or financial condition. Our commitment to make art available and accessible to members of our community is the reason for the Outreach Programs.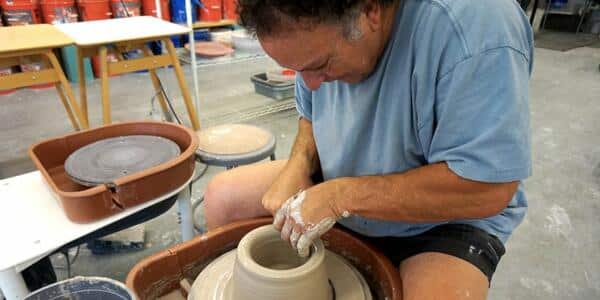 Our unique Mobile Mission is at the core of our mission work.
Thanks to generous donations, grants and partnerships, our Mobile Mission Art Program brings art adventures all over the Coachella Valley, at little to no cost to the student. Our Mobile Art Vans, fully stocked with tools and supplies for creativity, allow us to take our vision on the road, delivering art programs to our friends in need. The roving work room offers instructor-led art classes, and travel as far as Mecca, Thermal and Desert Hot Springs.
"Because so many do not have the ability or financial means to come to our studio, we bring art to them. The individuals we reach benefit greatly from the program because it creates community in a safe environment, providing sensory stimulation and the ability to express themselves in a healthy way. When they discover their creative ability, their self-esteem and confidence flourish." – OTAS Instructor, Ivanna Diaz Hansen.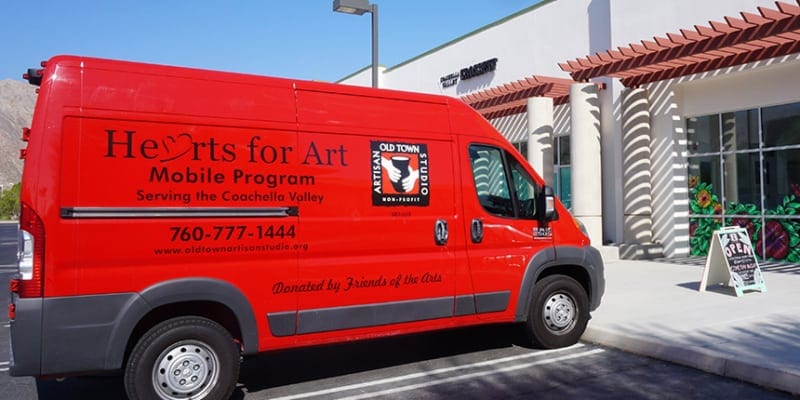 Over 21,000 art experiences annually!
We work with schools, after-school enrichment programs, and youth centered organizations to serve over 6,000 elementary and middle school children. The positive impact of these types of programs is proven. Studies show that Art Education can produce a positive impact on academic and social development. Studies also witnessed an overall increase in math scores and improvement in reading among elementary school students.
For senior citizens, art classes provide immeasurable outcomes in terms of mental focus, social engagement and overall wellness. Research from the National Endowment for the Arts and University of Michigan have notes that: "Older adults who have both created art and attended art events reported higher cognitive functioning and lower rates of hypertension than adults who did not attend such events.
Art has been used for centuries to help people express what they cannot put into words.
Our Alzheimer's Art Program unfolded organically in 2010, when two young ladies signed-up for a semi-private clay class and were accompanied by their uncle who suffered from Alzheimer's. While working with clay, his face immediately lit up with a vibrant smile. At that moment, our founder intuitively saw that something special was happening and knew this would be a segment of our mission. Lots of research confirms that the artistic process helps bypass the debilitating effects of brain disease. The International Journal of Geriatric Psychiatry demonstrates "improved cognitive functioning and increased ability of daily living and a decrease of behavioral and psychological symptoms of elders with dementia."
Through partnership with the Alzheimer's Association of Coachella Valley and the generous grants from the Auen Foundation, we have created a distinct program for Alzheimer's patients and their caregivers, free of charge.
For veterans who have experienced physical, mental, and emotional trauma, creating can be a way to process complex emotions. Creative interventions such as art therapy can make a difference in people's lives that medicine alone cannot do. Traumatic memories are often unlocked in images and other sensations rather than words. As far back as 1997, the Journal of Traumatic Stress found that art therapy was the top component among to produce the greatest benefits for veterans with PTSD.
With nearly 7,000 veterans residing in the Coachella Valley, we proudly serve our nation's heroes by providing healing and expression through art. Thanks to grants from the H. N. & Frances Berger Foundation, qualified veterans can take art classes at dramatically reduced cost.