Join our Volunteer Team!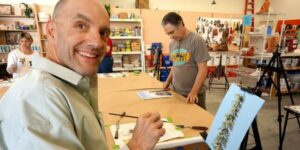 Old Town Artisan Studios provides art experiences for all people despite age, disability, or financial condition. We believe art is healing and has an everlasting positive impact on each of us.
We are a nonprofit organization that provides a warm and inviting place where people of all ages can reveal their creativity. We offer instruction and classes in clay, fused glass, painting, drawing, and other forms of art. Independent studio use, along with individual private instruction and classes for children, adults, and seniors.
If you are interested in donating your time and talents, please fill out the attached general form. We will do our best to match your experience and expertise to our current needs.
We are also looking for volunteers that can commit for a full year in a more involved role at OTAS. Please let us know if one of these areas are of your expertise, making note of it in the comment section of the form.Assembling
Assembling Art Kits for new programs
Paint Your Own Pottery Studio
Special Events Coordinator
Graphic Design (for special projects)
Click the link below to apply!