Ambassador for Art Program
Program Details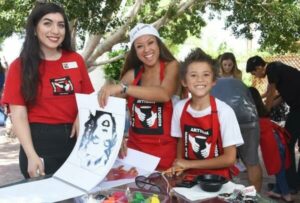 Old Town Artisan Studios' mission is to provide positive art experiences for all despite age, disability or financial condition – within our magnificent 3-acre Art Campus and through our Outreach and Mobile Art Programs. We know art is missing in schools. Art is healing and has a positive impact on each of us and the world around us. We are a 501 (c)3 nonprofit organization that offers art education and creative memories for our valley residents and visitors, especially those who need it most.
Our beautiful art campus allows families and friends to experience art in many mediums as well as being the kiln and supply center to allow us to take art to dozens of other non-profits and senior centers throughout the Coachella Valley.
We need Ambassadors to help us spread the word about our work and mission. This is a program where we are asking you to join us for just $15.00 a month or a one time $150.00 annual donation; in turn, we would like to thank you by giving you an annual $25.00 gift certificate to be used for credit towards a class, workshop or bisque in the Paint Your Own Pottery studio – A favorite place for the children to express their creativity!
All we ask for is your help in telling others about our work and art campus, and perhaps invite friends for a tour of our magnificent historic facility in La Quinta – a truly beautiful place and the former home of Cunard's/La Quinta Grill and Homestead Restaurant property.
Thank you for considering being a part of Old Town Artisan Studios mission as an Ambassador for Art.
Program Cost
$15.00 a month annually or
$150.00 one time annual gift
Benefits
When you join you $25.00 gift certificate will await you at the Old Town Artisan Studios reception which you can use toward a class, workshop or bisque in our Paint Your Own Pottery studio.   Please bring your receipt if possible. Also your name will be in our Ambassador for Art  Directory.
You are making a difference!
Join us! 
Either click to download the Ambassador for Art Form 2020
Or complete the online form below…